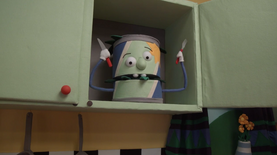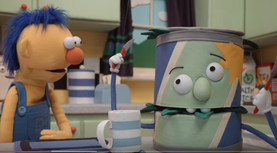 Spinach Can is a blue and green can that made its debut as the one of the main antagonists of Don't Hug Me I'm Scared 5, along with the Steak Guy.
Spinach Can, also known as 'Tin Can' or 'Can', is the second teacher to appear in Don't Hug Me I'm Scared 5.
Spinach Can is shown to not like "fancy show-offy" foods and is Steak Guy's personal helper.
Spinach Can is also in the dream world.
Also, in episode 6, the Spinach Can reappears on Red Guy's bed, Stealing Fridge's lines from the previous episode, unlike what most of the 'teachers' do, who repeat their own lines.
"Are you hungry? You look to be a bit hungry."
"What's that?! a tasty snack! You don't wanna go and eat a snack like that!"
"RUDE!"
"How do we know which ones are the healthy foods to eat?"
"Doesn't matter, just throw it away! why not try something else on your tray?" (Dhmis 6.)
" ♪ Doo doo du doo du doo, du♪ "
"A STRANGER'S PLATE! A STRANGER'S PLATE!"
"Lots of people get hungry!"
"What's that? A pizza slice? You're better off with plain white sauce."
"Ugh!"
Ad blocker interference detected!
Wikia is a free-to-use site that makes money from advertising. We have a modified experience for viewers using ad blockers

Wikia is not accessible if you've made further modifications. Remove the custom ad blocker rule(s) and the page will load as expected.